Politik
Elever demonstrerer i Aarhus: Hvorfor må vi ikke komme i skole?
Elever fra flere uddannelser i Aarhus vil gerne tilbage i skolen. De forstår ikke, hvorfor man nu kan shoppe og feste i byen - men ikke gå i skole.
"Lad os nu komme i skole!"

Før corona-krisen var det ikke en sætning, man hørte så ofte. Men meget har ændret sig, siden corona-virusset ramte verden.
I Aarhus bliver flere og flere smittet med virusset. Derfor må eleverne på flere ungdomsuddannelser ikke komme i skole. De skal i stedet have virtuel undervisning. Det skriver TV2.
Men alligevel må caféer, restauranter og forretninger have åbent. Snart må man også feste til klokken 02 om natten på byens barer.
Det undrer flere gymnasie-elever sig over. Derfor demonstrerer de i dag mandag.
Hvordan demonstrerer de?
I første omgang er ungdomsuddannelserne blevet lukket ned i 14 dage.
Men alligevel kan man shoppe og feste til langt ud på natten. Det forstår eleverne ikke. De mener, at politikerne har prioriteret forkert.
"Vi synes, det er svært at forstå, at man må shoppe løs og også snart feste til klokken 02 om natten, mens vi gymnasieelever fortsat skal have undervisning derhjemme," siger Peter Hove, som går i 3.g og er elevråds-formand på Egaa Gymnasium, til TV2 Østjylland.
Derfor har de hængt bannere op forskellige steder i Aarhus. Blandt andet ved Rådhuset, Åen, Skolegade og Bruuns Galleri.
Det er elever fra Viby Gymnasium, Aarhus Katedralskole, Aarhus Statsgymnasium og Egaa Gymnasium, der står bag demonstrationerne.
Her kan du se et af bannerne, som er hængt op ved åen i Aarhus.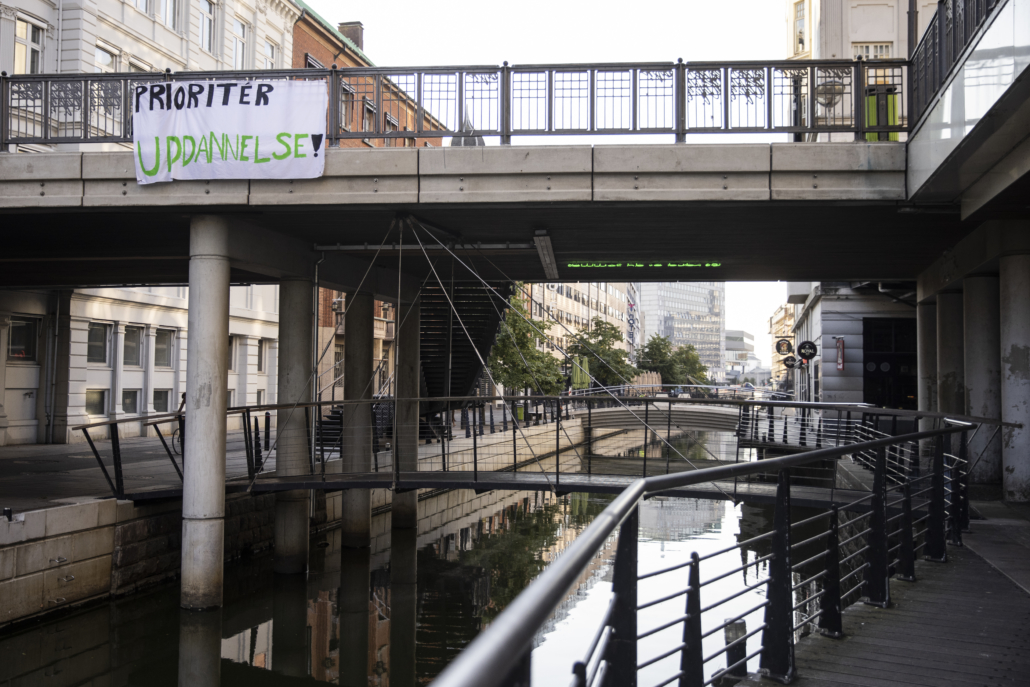 Virtuel undervisning er hårdt
Alle har prøvet at få virtuel undervisning under corona-krisen. Og det har været hårdt for mange elever.
Mange kom bagud i undervisningen, ligesom flere savnede vennerne.
En stor undersøgelse, med 2.000 gymnasie-elever, fra maj 2020 viste, at mange gymnasie-elever havde det svært med hjemme-undervisningen under corona-krisen.
6 ud af 10 følte sig mere ensomme under corona-krisen. Knap 7 ud af 10 elever svarede også, at de ikke fik det samme ud af undervisningen, når de blev undervist digitalt. Læs mere om det her.
Gymnasieeleverne i Aarhus er så trætte af den virtuelle undervisning, at de gerne vil undgå den.
De håber, at deres demonstration kan sørge for, at andre skoler i landet heller ikke går tilbage til den virtuelle undervisning.
LÆS OGSÅ: 3 ud af 10 elever trives dårligt i gymnasiet.